(version française à lire sur le site d'Africultures) Few films come to us from Angola. Selected in the "Rotterdam International Film Festival", then in competition in The Fribourg International Film Festival (FIFF), « Air Conditioner », by Fradique and his collective Geração 80, is an intriguing, deep and magical film, which is worth the detour. It is on view here for free until April 19, following the cancellation of the Fribourg festival. Do not delay: the gauge is 200 spectators…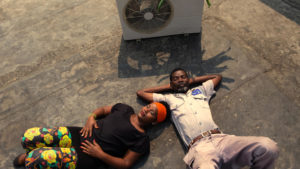 Now, we don't know why, the heavy fans drop from the walls one after the other in a Luanda crushed by heat, sometimes causing injuries or deaths. It is on this delirious scenario that both a story and a singular atmosphere are built in line with the magical realism, commonly seen in the pages of authors like the Mozambican Mia Couto. Matacedo (José Kiteculo), a civil war-struck caretaker, is urged by Zézinha (Filomena Manuel), a cleaning lady, to repair the fan of his boss who keeps on shouting. He entrusts it to a repair shop of bad reputation, but which turns out to be a place of initiation… It is not sci-fi, but the mystery is permanent, supported by the steadycam images of Ery Claver, who co-wrote « Ar condicionado », and presented himself, in January of 2019, in Clermont-Ferrand International Short Film Festival, with his experimental short "Lúcia No Céu Com Semáforos".
Fradique, who learned cinema in the United States, but is based now in Angola, had signed under the name of Mário Bastos, an excellent committed historical documentary: « Angola-On The Rails Of Independence ». But here, he radically changes his register, not hesitating to subtitle dialogues that the characters exchange by telepathy, opting for baroque monochrome and camera angles or expressionist perspectives, and especially relying on the superb original jazzy soundtrack by Aline Frazão.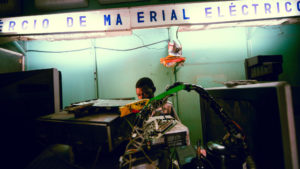 Matacedo's heavy inertia, like the country one, is not static. He knows by heart the labyrinthine building in the centre of Luanda in which he operates, every nook and cranny but also every family confined in rooms that are too narrow. The film then takes an empathic and critical view of the social inequalities in the world's ranked most expensive city, torn between its tragic past and future prospects. When the two characters meet in the surrealist shop of the repairman Kota Mino (David Caracol), they discover the machine he secretly assembles to recover the people's memory. This journey through pain brings them closer to the secret of the fans…
It is the rhythm of a city that "Air Conditioner" is trying to capture, an analogy of a society that lacks of air, thus placing it between past and future in the great game of the world. It was necessary to evoke this eccentric story and this returned humor, this melancholy and this quirky aesthetic. The film barely exceeds an hour and the actors' sleek acting avoids any theatricality. Some will be bored, but for those who agree to plunge into an enigmatic universe although strongly significant, this poetic experience can fascinate. Because « Air conditioner » is a dreamlike journey into the magical daily life of Luanda, where the traditional instruments of Aline Frazão enrich her jazz as much as they widen the vision.